Article By Keira DiGaetano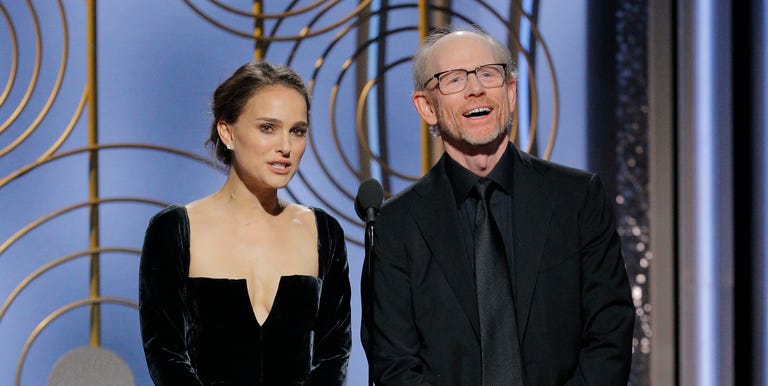 [source // Image description: Actors Natalie Portman, left, and Ron Howard, right, announce the year's Best Director nominees.]
This year's Golden Globe awards very much centered on political activism. With nearly every attendee in black and countless jokes and digs surrounding certain sexual abuse scandals, the drastic shift from last years very prim and white ceremony was stark. This sets a precedent for the rest of the award shows this season, and with Oscar nominations being released on the 23rd of January, it's hard not to wonder what form these protests will take, and whether they'll enact any true change.
The hashtag du jour was #TimesUp, meant to take a stand against sexual assault. The unease throughout Seth Meyers' monologue was palpable as he dodged his way through the landmine of sexual abuse jokes, and no matter your views on humor in this situation, it seemed kind of unfair to force him to center his entire hosting gig on these horrible crimes. The evening was well-intentioned but still tainted - wonderful diverse pieces like The Marvelous Mrs. Maisel and Coco won big, but Greta Gerwig was inexplicably snubbed from the best director category. Natalie Portman shot back the feelings of the general public in her subtly shady "here are the all-male nominees" line, but that surely didn't change anything. The peculiar plea to Oprah to run for president seems like another instance of this misplaced effort; do we really need another reality star in charge, regardless of political leanings?
Although Harvey Weinstein was a common target, men at fault in sexual cases were still congratulated throughout the show. James Franco, who has been perpetually under fire for sexual exploitation for a while now, won Best Actor. In a particularly cringeworthy moment, he even pushed aside Tommy Wiseau, the man who made Franco's film, The Disaster Artist, possible at all. Justin Timberlake appeared to enthusiastically support the #TimesUp cause, until you remember that he's still working with Woody Allen. Yeah. Woody Allen. This would still not be entirely condemnable except for the fact that many actors are now donating their salaries from upcoming or recent Allen films to sexual abuse survivors' charities, and Timberlake has attempted nothing of the kind. Even Kirk Douglas, whose moment in the spotlight for his impressive age was uncomfortable to say the least, has been accused of raping Natalie Wood. Why are we celebrating these people and giving them a literal get-out-of-jail-free card? We can't award rapists and condemn sexual assault too. Of course, the upcoming Oscars could and probably will attempt to deal with these issues again. Time will tell whether their methods prove effective.
The infamous hashtag #oscarssowhite of 2016 seems poised to reemerge

this year. The frontrunners of Oscar seasons -
Lady Bird
,
Dunkirk
and
The Post
, among others - are all exquisitely white. The only exception is
Get Out
, the racially charged film that has the potential to offset all of this, except for the fact that it got entirely shut out of the Golden Globes. The only real Asian representation comes from the comedy
Downsizing
, which isn't projected to have much success. The real question in my mind is in regards to the role that sexual abuse scandals will play in this year's ceremony, since that seems to be the focus of this year. So many films are female-centered, but with mildly pedophilic and sexual harrass-y people like James Franco still winning big at the Golden Globes sans backlash, how far does the movement go? The business of criticizing celebrities for "only" wearing black is booming, as is the opposing side, but at the end of the day clothing means nothing if action isn't taken. Awards show activism is fun, sure, but remember that change doesn't end on the stage. Progress isn't limited to pins and little black dresses, and hopefully the spirit of justice will inspire those in power long after their favorite movies are awarded.