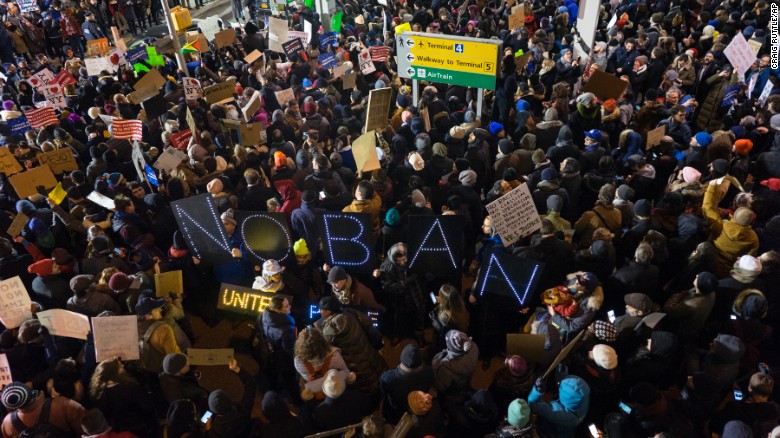 Source: CNN
January 20th, 2017 - February 4th, 2017
Perfect for those overwhelmed by the constant stream of news on social media platforms or those clueless on where to start reading comes Risen's Bi-Weekly Briefings to the rescue. Every two weeks, Risen contributors will be covering numerous topics that haven't received enough coverage or may prove to be too complicated and lengthy for some readers, so we've simplified it for you guys! We understand how tough it is to catch up with news, so we've summarized a few events. Although we may not cover these events in details, we hope to provide insight and provoke interest to those less informed.
AJ+'s Trump Tracker
by
Adele
Within the first week Trump's presidency, there has been an influx of information. With the high amount of bills, firings, protests and more going on in America, it could prove to be overwhelming—but thanks to AJ+, this problem has been solved. For all those who have trouble following the news or haven't kept up to date with the current state of America, AJ+'s Trump Tracker can help with the that. Every single day, AJ+'s Facebook updates the world in a short point-form with the recent actions taken by Trump.
ACLU V.S. Trump
by Jazmine
The American Civil Liberties Union filed a lawsuit on January 28th, challenging
Trump's controversial executive order
on travel restrictions, as news of detainees within these airports increased in numbers. The ACLU filed a habeas corpus petition for two Iraqi men detained and threatened with deportation at JFK International Airport. A federal judge in New York stopped part of Trump's order, allowing people who had valid visas from the seven Muslim-majority countries who arrived in airports after the order was put in action. But, this ruling does not completely reverse Trump's executive order.
Islamophobic Shooting Hits Canada
by Adele
At Quebec Islamic Cultural Centre on January 29th, 2017, a shooting resulted in six dead and eighteen injured. A day later, the 27-year-old who committed the crime was charged with
six charges of first-degree murder, as well as five counts of attempted murder
. As accounted by those who witnessed the mass shooting testified, this event was without a doubt a terrorist act, as he shot without a word, expressionless. In a country such as Canada, with a history of neglecting all traces of racism and xenophobia within its country as well as embracing the terms diversity and inclusion, this struck a chord with many. As Prime Minister, Justin Trudeau spoke at the funerals of the victims of the shooting, rallies against islamophobia and white supremacy were held nationwide. Yet, as rallies proceeded, a surge of islamophobic hate crimes were realized, such as the vandalization of a local Montreal mosque. This isn't new for the mosque, as they'd previously found their property spray painted months earlier. Although islamophobia is invisible in Canada, this recent event
forces Canadians to acknowledge its presence and pressing importance
, as well as the work needed to provide Muslim citizens a safer environment built by action, instead of words.
Trump's Traveling Ban
by Amy
On January 30, 2017, President Trump issued an Executive Order banning travel into the United States from seven majority Muslim nations: Iran, Iraq, Syria, Sudan, Somalia, Libya, and Yemen. It is a temporary 90-day ban, but it also caps the number of immigrants at 50,000 per year. This Executive Order marks a turning point in America's response to terror and sets the stage for the next four years of Trump's presidency. While this Executive Order is technically constitutional under the "take care" clause of Article II, Section 3, it is not legal as it contradicts the Immigration and Nationality Act of 1965. This Act abolished the quota system based on national origin and established a new immigration policy based on reuniting immigrants with their families. By limiting the number of immigrants who can enter the US, especially because the targeted nations are predominantly Muslim, Trump is effectively creating a new quota system targeting Muslim immigrants.
Airbnb Houses Refugees
by Jazmine
Airbnb is a service that utilizes extra space homeowners may have for most travelers to have temporary housing. They have about 2 million listings worldwide in 191 countries. The company has gained traction lately due to CEO and co-founder Brian Chesky releasing a statement that Airbnb will provide free housing to refugees and travelers, mainly immigrants, affected by Trump's executive order on travel restrictions temporarily banning people from seven Muslim-majority countries and Syrian refugees indefinitely.



Brian Chesky responded to President Trump's temporary ban on Saturday as news came out about travelers from Muslim-majority countries were being detained or held in limbo at multiple airports with a series of tweets.
Airbnb is providing free housing to refugees and anyone not allowed in the US. Stayed tuned for more, contact me if urgent need for housing

— Brian Chesky (@bchesky) January 29, 2017
Not allowing countries or refugees into America is not right, and we must stand with those who are affected.

— Brian Chesky (@bchesky) January 29, 2017
He called for Airbnb users who are able to provide housing for refugees to sign up:
— Brian Chesky (@bchesky) January 30, 2017
After Trump's executive order placing restrictions on traveling, thousands of protesters swept airports across the nation.
The New York Taxi Workers Alliance called for an hour stoppage in protest to the Muslim ban. The taxi drivers are mainly composed of immigrants or hold roots within Muslim-majority countries.
BREAKING: NYTWA drivers call for one hour work stoppage @ JFK airport today 6 PM to 7 PM to protest #muslimban! #nobannowall

— NY Taxi Workers (@NYTWA) January 28, 2017
But, the transportation service Uber took the opposite route and tweeted on Saturday, January 28th, 7:36 PM that they would be lowering prices, turning off "surge pricing" at the JFK Airport.
Surge pricing has been turned off at #JFK Airport. This may result in longer wait times. Please be patient.

— Uber NYC (@Uber_NYC) January 29, 2017
Quickly after, the hashtag #DeleteUber started trending as people became outraged at what many saw Uber implying they would be profiting off of Trump's ban. On January 29, Uber stated they were not trying to profit off of Trump's ban nor do they support it.
Last tweet not meant to break strike. Our CEO's statement opposing travel ban and compensating those impacted: https://t.co/joWvPvux9J

— Uber NYC (@Uber_NYC) January 29, 2017
Uber's CEO Travis Kalanick fell under criticism for also serving on Trump's economic advisory panel. But, Kalanick released a
statement
against the most recent executive order passed by the Trump administration. Within the statement, Kalanick emphasized the importance of working with Trump.
In response to the backlash, Uber organized a $3 million legal defense fund and are
compensating drivers
affected by the ban.
In contrast, Uber's main competitor, Lyft, has pledged to donate $1 million over the next four years to the American Civil Liberties Union (ACLU) in response to the ban. Many have tweeted that they will now be deleting Uber and switching to Lyft.
— Susan Sarandon (@SusanSarandon) January 30, 2017
Dannah Wilson V.S. Betsy Devos
by Amy
Meet Trump's nomination for Secretary of Education, Betsy Devos. She is a Michigan billionaire, major donor to the Republican Party, and has absolutely no experience in the public school system. She never attended public school, never sent her children to public school, and believes in privatizing public education. Still don't believe that she's completely unqualified to be our Secretary of Education? Just take a look at what she's already done to the Michigan public school system. Detroit, Michigan is home to decades of abysmal test scores, not because the students aren't intelligent, but because the city is divided by crisscrossing charter schools that serve communities and tailor to private interest groups. For 20 years, Devos and her family have contributed to this inefficient and inadequate charter school system.
One student from Detroit, Michigan, 17-year-old Dannah Wilson, traveled to DC to share her experience and spread the message that Devos should not be confirmed. "The schools in Detroit are poor and it's not because we are poor," Wilson said. This high schooler doesn't believe that Devos has the credentials or the track record to hold such an influential position over our nation's children. Wilson is still speaking out against Devos' confirmation from her home in Michigan.